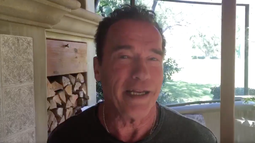 Huffington: Ever since Arnold Schwarzenegger took over as host of NBC's "The Celebrity Apprentice," former host President Donald Trump has made a contest out of comparing the show's ratings between its old and new leadership. It's no secret that Trump is not a fan of his replacement.
"I want to just pray for Arnold, if we can, for those ratings," the president said, after claiming that "Apprentice" is currently "a total disaster."
Shortly afterward, Schwarzenegger hit back at Trump with a video posted to Twitter.
"Hey, Donald, I have a great idea," the bodybuilder-turned-entertainment-icon-turned-governor-turned-back-to-entertainment-icon began. "Why don't we switch jobs? You take over TV, because you're such an expert in ratings, and I take over your jo
b. And then people can finally sleep comfortably again. Hm?"